Discover more from Understanding TikTok
A newsletter for you to become fluent in TikTok.
Over 5,000 subscribers
#114: TikTok Tools
The rainbow spurting cat with a Pop-Tart for a body has returned
Hello.
You are reading Understanding TikTok. My name is Marcus. I am an Internet researcher at HAW Hamburg, investigating TikTok. Ryan Broderick the other day wrote about a larger misunderstanding about TikTok "that is being brought into better focus because of the fighting in Israel and Palestine."
Thanks for reading Understanding TikTok ! Subscribe for free to receive new posts and support my work.
We're now firmly in a TikTok-first and, by extension, video-first internet. And TikTok's algorithm is almost the inverse of something like Facebook's. Its network effect isn't based mass appeal snowballing into global virality, but about identifying niches. I'm going to call our current moment the Vapor Web. Because there is actually more internet with more happening on it — and with bigger geopolitical stakes — than ever before. And yet, it's nearly impossible to grab ahold of it because none of it adds up into anything coherent. Simply put, we're post-viral now.

In order to grasp more and understand better this week's newsletter brings you a first fine selection of 🤖 TikTok Tools. I spoke to AI Forensics who helped Amnesty International produce two reports (compare #113) and recently launched the TikTok Global Observatory (see interview with Natalie below) and i set up an open Google Doc to collect tools for you to study TikTok – especially when ⚗️Investigating TikTok without API access (compare #110). 
Thanks a lot to Marloes Geboers, Elena Pilipets, and Natalie Kerby (NK) for kicking off a hopefully growing set of tools. And thanks to Cameron Higgins (ATI) for inspiration. I hope we can start a fruitful discussion on how to make TikTok research easier, more data-based and even more meaningful. If you have a tool please feel free to add 🔨

---
---

🌏 TikTok Global Observatory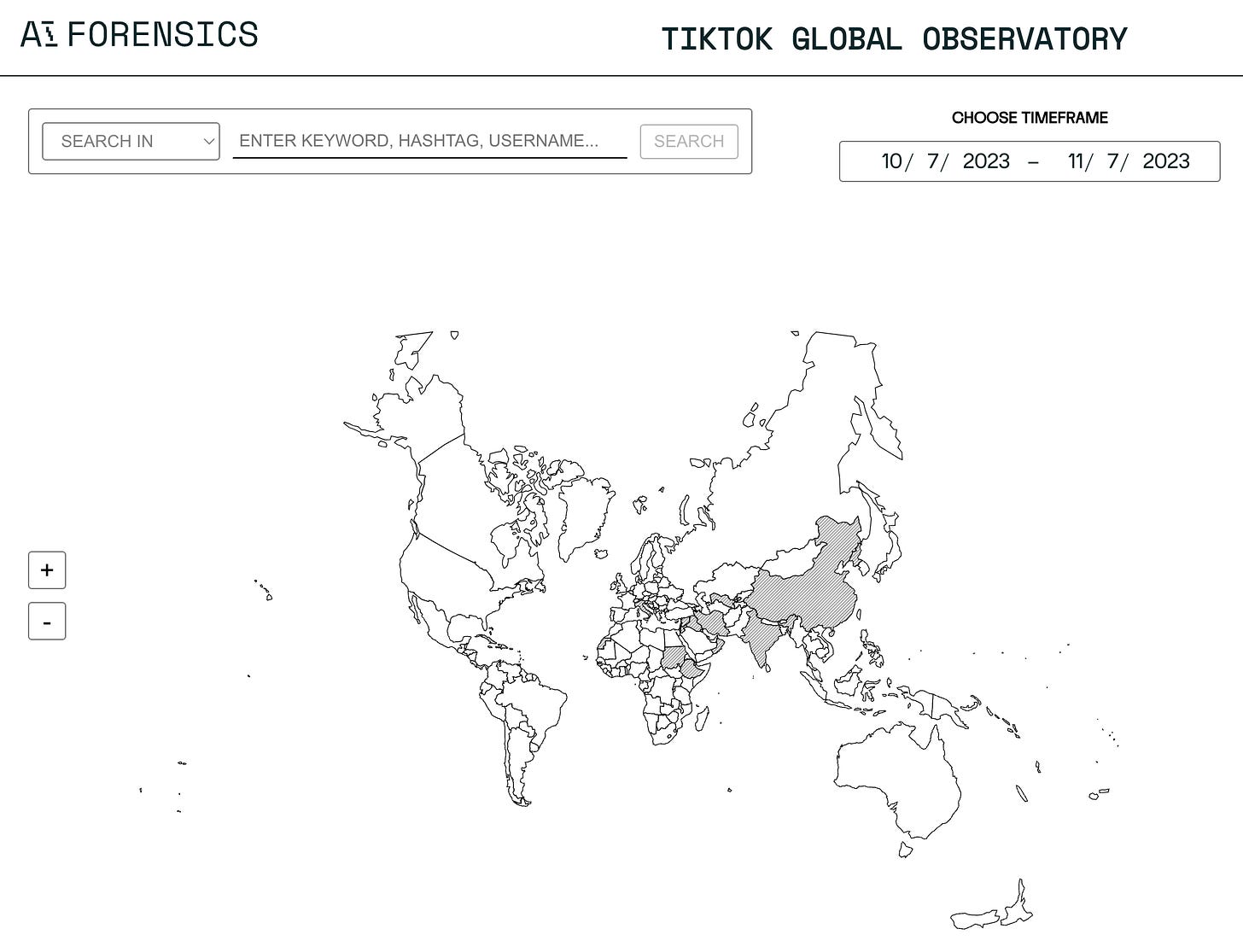 NK: The TikTok Global Observatory (TKGO) is a tool for cross-national comparison on TikTok. Our mission is to provide access to the largest data collection currently available on TikTok, which allows one to explore and understand cross national differences in content prioritization patterns. Cross-national comparisons of content recommendations are vital to understanding how platforms respond to local cultural and political contexts. We want to highlight that this data does not reflect personalization, but rather what content TikTok recommends in each country to act as the company's local "show window." Independent research is essential in order to promote transparency of TikTok's recommendation system, and hold the platform accountable for its content prioritization and moderation strategies, especially when it results in actions such as censorship.
For whom is it intended? Who is your perfect user?
NK: The tool is a unique access point for researchers, journalists, lawyers, regulators, and content creators who aim to investigate trends, content moderation, and content promotion from a cross-national perspective. 
What data is scraped? How? And how often?
NK: The TikTok Global Observatory is based on a continuously updated dataset, which consists of the first 8 videos scraped from the web-version of the FYP of a non-authenticated TikTok user. The data collection is replicated across 197 countries and territories up to 4 times per day. Metrics made available include country, description, video ID, authors/account, author ID, views, likes, hashtags, shares, upload date, date of extraction, and more.This data collection relies on a Residential IPs Network that allows us to programmatically access TikTok from each of the listed countries.
What can you do with the tool? Can you explain or point to 1-2 best cases?
NK: With this tool, we aim to make cross-national comparisons on TikTok more accessible and contribute to easing the process of identifying how TikTok distributes content on the FYP. Cross-national comparison can take place at a macro level, in which a researcher identifies how content clusters among certain countries and possibly introduces unexpected connections or signals emerging censorship for further investigation. For example, we were able to detect how Russian users were cut off from international content by TikTok during Russia's initial invasion of Ukraine. The tool also allows for analysis of songs, hashtags, and similar metadata, such as tracking a song's progression of virality from one country to many.
What do i need to do in order to use it?
NK: You can access the tool here. This tool displays an interactive world map showcasing all countries and territories where TikTok is available. It provides a compiled list of the most popular global videos and their corresponding metrics. When you explore a specific country, you'll access a list of top local videos.
The tool also features a time filter and a search bar that are separately applicable, enabling you to refine your dataset timeframe or by keywords found in video descriptions or video author information. To download the dataset, simply click on the "download CSV" option on the sidebar. This directly downloadable data is limited to about 1000 videos. Should you require access to a more extensive dataset, we welcome you to request direct data access from here. By completing a brief form, we will grant you access to Metabase, where you can explore the full TKGO dataset and enjoy more detailed filtering options.
What are limitations of the tool?
NK: While TikTok is know for its extensively personalized feeds, the tool presents the top For You Page videos from a non-logged user's perspective. TKGO offers an unpersonalized dataset, which in turn functions as a platform-curated display of content that TikTok actively showcases. We see this as an opportunity rather than a constraint, as it affords the chance to explore cross-national disparities influenced by geographical, cultural, political, or policy-related contexts.
What will the next steps be concerning the development
NK: Our next steps involve the incorporation of diverse relational datasets for network analysis as well as pre-calculated embedded analyses. More so, our intentions are to work closely with researchers who use the tool. We are establishing a community to foster closer connections with tool users, gain insights into ongoing research, and better comprehend the unique desires of the research community. By doing so, we can collectively refine and enhance the tool into a versatile research instrument that can cater to a wider range of needs.
Thanks!

🍉 Playful Activism
Watermelon, Poptarts and game-based TikTok Filters. In #112 i wrote about Memetic Warfare. Here is more:
After 12 Years of Silence, Nyan Cat (Know Your Meme) Says 'Free Palestine'. The rainbow spurting cat with a Pop-Tart for a body has returned to weigh in on the Israeli-Palestinian conflict (Gizmodo).
The watermelon has long been a symbol of protest for Palestinians, and as social media users suspect platforms of censoring content about Gaza, the corresponding emoji is being used in place of the Palestinian flag (Techcrunch).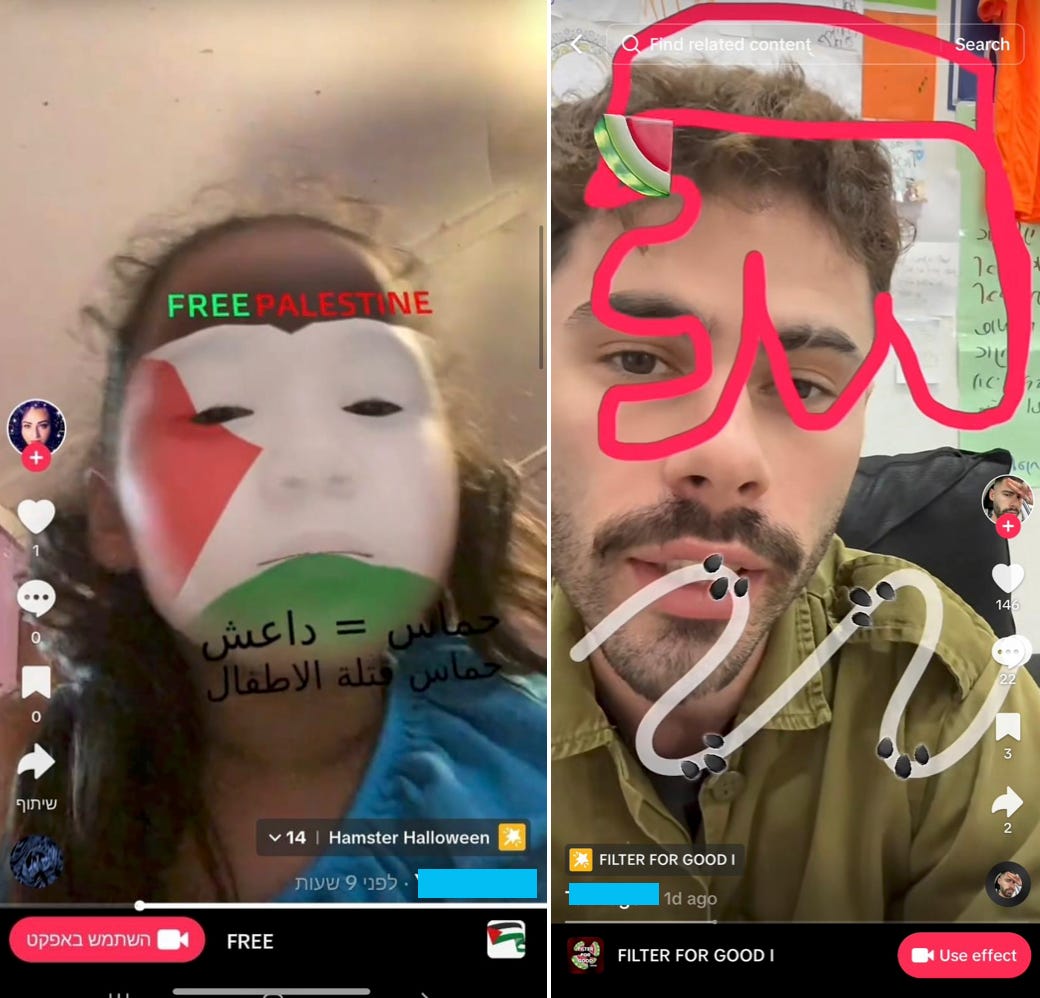 Meanwhile my dear colleague Tom Divon has observed a "re-weaponization of visual effects" on TikTok. Pro-palestine users had created a "Free Palestine" effect that got
recreated by pro-Israel supporters including the text Hamas=ISIS in arabic. A second example shows a "game-based TikTok filter created by a pro-Palestine user, featuring the watermelon" that had "been monetized with the pledge of profits going to Gaza". It's virality led Israelis to "engage in visibility games, making videos calling for the filter's improper use". Tom together with Laura Cervi has written more about Playful Activism: Memetic Performances of Palestinian Resistance in TikTok #Challenges: "Playful activism transforms users' ritualized performances into powerful political instruments on TikTok and makes democratic participation more relatable, tangible, and accessible to various audiences."
📊 Trending Hashtags
I warned of an overly simplistic approach of solely comparing two hashtags in the current conflict here and there. Thanks to news website Semafor we have a more nuanced view now. Semafor collected data from TikTok's Creative Center, a tool for advertisers that shows how hashtags are performing on the app around the world: Asian and Middle Eastern users tilt TikTok balance toward Palestinians (see visualisation above).

Another interesting observation by Semafor: TikTok tells advertisers #Israel is trending, but not #Palestine. Quote: "TikTok is currently telling advertisers that #Israel is the top trending news-related hashtag in the U.S., as it faces pressure in the country to explain why pro-Palestinian content is so popular on its platform. While the hashtag #Palestine goes unmentioned on TikTok's list of trending news and entertainment tags, users globally have created more than twice the number of videos tagged #Palestine than those tagged #Israel over the last several weeks, according to the app's own publicly available data." 🧐

Even more important Ej Dickinson (Rolling Stone) reminds us that "the concerns over whether pro-Palestine content is being "promoted" on TikTok over pro-Israeli content also seem to fundamentally misunderstand the mechanisms by which TikTok's algorithm works. Unlike how social media platforms have historically operated, TikTok's For You page delivers a highly curated stream of content targeted specifically at an individual user, based on what types of videos they have engaged with previously." Word!
Thanks for reading. Feel free to share. Speak soon.
Thanks for reading Understanding TikTok ! Subscribe for free to receive new posts and support my work.