TikTok 01
Reverse Engineering, Deep TikTok & Fashion
Hello subscriber, how do you do?
This week will talk about

🔧 Reverse Engineering
🕳️ Deep TikTok
🕺🏾 Fashion TikTok

- - -

🔧 Reverse Engineering

I was talking about NPR's Planet Money TikTok account last week. Because it is a great example how to create stunning explainer videos suited for a media saturated target audience. The team combines storytelling, information, effects and enough hype to bring people to comment (Is that legal). The comment section of TikTok is a thing it its own and needs some special investigation one day. For today let´s focus on the effects. I sat down and tried to recreate the flipping cut out skateboard that can be seen here.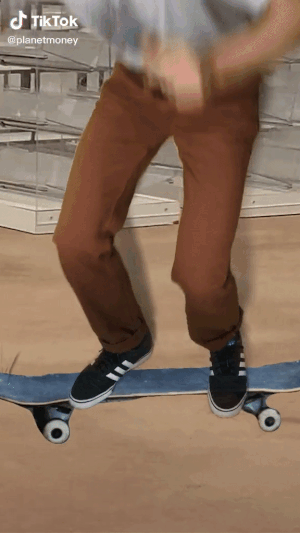 NPR used a combination of layers, animations with keyframes and the green screen video effect. You can read more about that in a blogpost i wrote. And please do not ask me how @thejulianbass created this stunning TikTok. We need to dig deeper into #VFX (visual effects) at some point. There is a lot happening around here, concerning apps and e.g. augmented reality.


🕳️ Deep TikTok

I first heard about this thing called Deep or Alt or Elite TikTok after the messed up Trump rally in Tulsa two weeks ago. I wrote something about it here. If you prefer audio there is a BBC radio feature by Sophia Smith Galer.

Sophia – by the way – produced a little TikTok tutorial a couple of weeks ago. Interesting take away: As a creator you should ask yourself a couple of questions, just like the journalistic Five Ws just from a strong user centered perspective:

+ Why would i want to watch the whole thing?
+ Why would i want to watch it loads of times?
+ Why would i sent it to a friend?
+ Why would i like it and comment it?
+ Why is it relevant to me?


🕺🏾 Fashion TikTok

Wisdom Kaye Is the Best-Dressed Guy on TikTok, writes Vogue: This week's must-follow account is Wisdom Kaye (@wisdm8), a 19-year-old from Houston, Texas. His outfits riff off the 1970s in a new, modern way and often take cues from Hedi Slimane and Rick Owens, two of his favorite designers. Since posting his very first TikTok in January 2020, Kaye has already amassed over 2 million followers.

One reason could be: "The fashion community is not the biggest on TikTok. Dancing and comedy make up the majority of the platform, and within the fashion community, there are not that many male fashion creators."

- - - -

Okay, that is it. Thx for reading. If you have any questions or suggestions please let me know!

✉️ m@marcus-boesch.de
🐤 @m_boesch