Hello subscriber, hope this newsletter finds you well.
Today we will talk about

🇺🇸U.S. Possibly Banning TikTok
🎓TikTok Ethnography
📹The Filmmakers of Tomorrow
🖼️Museums on TikTok

- - -
🇺🇸U.S. Possibly Banning TikTok

President Donald Trump and Secretary of State Mike Pompeo think aloud about banning TikTok (Everything You Need to Know About the U.S. Possibly Banning TikTok). After India shutting down TikTok two weeks ago (30 percent of TikTok's 2 billion downloads came from India) this means more bad news for ByteDance, the company behind TikTok. US based users and creators (#SaveTikTok) respond angry, with escape plans to other apps or platforms:"It's important to diversify your platforms."


Can the US just shut down an app? Yes, it can.

The U.S. Government has never banned an app before, says Jennifer Golbeck, a professor who specializes in data privacy at University of Maryland's College of Information Studies, on CNBC: But it's definitely still a real possibility, Golbeck adds. "If they were to do this, I suspect it would be through new regulations that Apple and Google need to comply with in their app stores," she says.


Geopolitical Flashpoint

While TikTok might return to India soon (TikTok Returning in India After July 22?), the political implications will no doubt continue with TikTok being the first Chinese app that's actually been embedded in local culture around the world. We will probably be discussing more of the so called splinternet soon.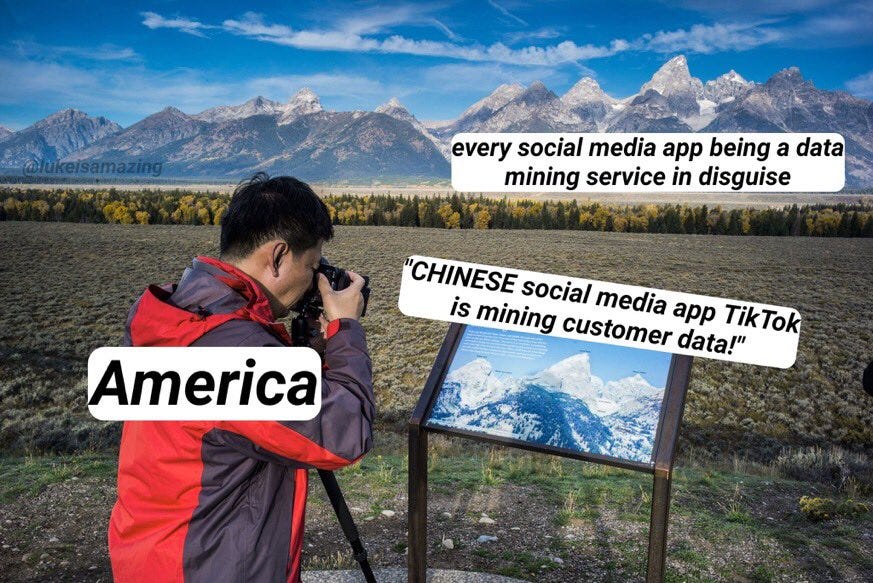 🎓TikTok Ethnography

While the external world is spinning and discussing TikTok as a geopolitical threat, the inside is getting more and more complex. Most mainstream media are still in the midst of finding out that the app is more than just teens dancing (The rise of TikTok in politics) while others dive deep into deep, quite niche trends and subtrends that develop, die and diversify in great speed. #Darkacademia was or is a thing. Just like #Cottagecore. Sounds confusing? Yes, it is. For most of us, that is.


Aaron Z. Lewis has written an interesting article covering that topic. Some take-aways:

+ In today's chaotic media environment, not even a global pandemic can restore a shared sense of Reality
+ Old media institutions try (and fail) to keep up with the narratives of online subcultures
+ Old-school media outlets watch internet culture on tape delay — by the time they identify a subcultural tribe, it's usually already splintered or evolved into something different.

Aaron links to this phantastic overview: My map of TikTok.

📹The Filmmakers of Tomorrow

I read this nice overview about current visual trends being tried out and tested on TikTok. And i totally agree, the visual style and different aesthetics will no doubt change the way how we tell and consume audiovisual content. The transitions are hilarious to catch and keep the attention in order to increase one of the holy grales: WATCHTIME. For a start here are 7 Basic Editing Tips for Creating TikTok Videos on the Fly And here you can find some decent Wes Anderson infused stuff.

While other more mainstream parts of TikTok aim for traditional TV Reality Shows there is another new school of indie just in development. See @drive45music.

🖼️Museums on TikTok

Yes, museums are on TikTok too. Not that many, as the NYT has found out. But the Uffiziagalleries tries hard to please the crowd…
- - - -

Okay, that is it. Thx for reading. If you have any questions or suggestions please let me know! Otherwise help spread the news.

✉️ m@marcus-boesch.de
🐤 @m_boesch