Discover more from Understanding TikTok
A newsletter for you to become fluent in TikTok.
Over 5,000 subscribers
TikTok Newsletter 12
🕵️‍♀️ Debunking False Stories 🐶 Political Campaigning 🧶 Future of Fashion
Hi subscriber!

Hope you are doing good.

I wanted to start by digging deeper into the whole Oracle thingy. But right now i am way too tired to wait for another weird statement by the US president. Until further note let´s stick to a simple word: farce.

And a quote:

"TikTok's current head of U.S. public policy, Michael Beckerman in a 2019 op-ed called out Oracle as a data broker guilty of invasive, potentially harmful practices." (Politico, Sept 14). 🙃

Today we will talk about

🕵️‍♀️ Debunking False Stories
🐶 Political Campaigning
🧶 Future of Fashion

- - -

🕵️‍♀️ Debunking False Stories

Laura thankfully pointed me to this great usage of the duet-feature. I wrote about duets in newsletter 10. If you want a great example how it is used for interviews, here it is. If you want to try it out on your own, Sue explains how to do it. But now let´s talk about Wildlandmike.


Michael David Clarke is a firefighter in Hawaii. He has been active on Instagram with the user handle wildlandmike since 2015, has posted 160 photos and videos. Including job related stuff, hobbies, playing golf, a Tesla, a motorbike, some drone footage. 938 people follow him.

On September 15, Mike has posted a first Tiktok video commenting on a conspiracy video. A comment by Visual Journalist Anthony Quitntano (@aquitano) next to the video: facts are awesome.

Mike's very first TikTok had 45K views. For his second video a day later (see above) he used the duet-feature. It currently has 485,3K views.

In the video Mike - amongst other things - points to the fact that the map used in the conspiracy-video is a U.S. data map. That easily explains why the fires magically seem to stop at the border to Canada.

Take aways

On TikTok as on every other social media platform a lot of false stories are shared because most people with a smartphone can start talking about whatever they want. This is of course not a bad thing in itself.

False stories, fake news and propaganda are a problem because news media and journalists who should collect, analyze, verify and present information have lost their unique status in the 21st century.
Interestingly it is not journalists but firefighters like Mike, doctors like Doctor Leslie (809,4K Followers) from Minnesota or lawyers like the german Herr Anwalt (2,2 Mio Followers) themselves who start debunking myth on platforms like TikTok while journalists seem to have a hard time trying to adopt.And of course there are a lot of actors debunking myths and conspiracy theories. The WHO for instance has been working with TikTok, Snapchat to debunk virus myths. #safehands

In the end it comes down wether i believe or want to believe version a,b or c of a so called fact. For starters: The earth is flat.

But obviously one advantage of TikTok is that you can get a huge audience with only 1,2 or 3 TikToks if they stand out and add value like Mike's video did.

Strange to me that journalists rather try to be funny "because that is what TikTok is all about" or "down with the kids" instead of doing their job here. It is much needed and obviously wanted.

Or have i missed something crucial? Please point me to journalists debunking false stories on TikTok. Pleeease!  Here is my email.


🐶 Political Campaigning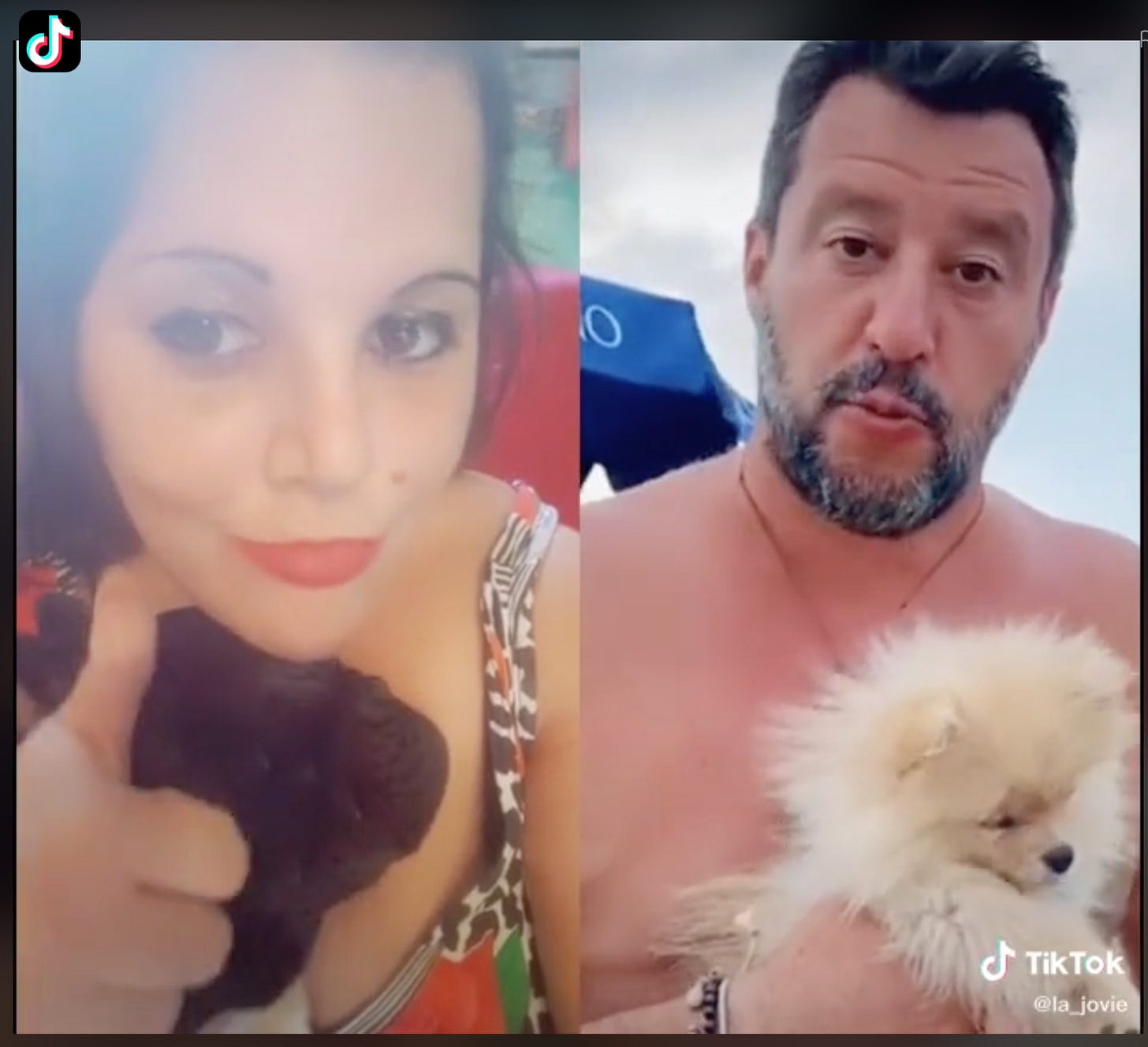 In newsletter 4 i briefly checked out politicians on TikTok. Erika thankfully pointed me  to Matteo Slavini, Deputy Prime Minister of Italy. If you are not familiar with him i encourage you to check out his Wikipedia. His political views have been described as on the far-right and - if i may add - they have been described as disgusting as well.

Salvini has 343,8k followers and it is interesting to see how he uses his account to present himself as a caring, forgiving down to earth leader with some serious sex tension. Here is Salvini, half naked with a cross around his neck and a little dog. And here are two fangirls using the duet-feature. Political campaigning in 2020.

On 20-21 September, Italians will head to the polls to vote for the presidency of seven regions, the mayoralty of over 1,100 municipalities, two Senate by-elections, and a constitutional referendum over the reduction of the number of MPs. More on that here.


🧶Future of Fashion

12 weeks ago i covered Wisdom Kay – then 2M followers (Vogue: Best-Dressed Guy on TikTok) now 3,7M followers, including a quote: The fashion community is not the biggest on TikTok.



While this is still true TikTok and large parts of the fashion industry have sped up the game. TikTok has announced its own fashion month starting Friday, Sept. 18 including livestreams of two fashion shows a week from labels such as Louis Vuitton, Saint Laurent and Alice + Olivia. JW Anderson will debut their women's spring/summer 21 collection on TikTok.  The Guardian has a nice article.


"[TikTok influencers] will become just as, if not more, important than Instagram influencers for fashion marketing," says Jessica Schiffer, contributing editor of Vogue Business. If you want to know more about the #harrystylescardigan challenge or see some of the new faces like Noen Eubanks, Chase Hudson and Anthony Reeves, check out the article. It is worthwhile.


Meanwhile i rather celebrate german gender fluid niche phenomenon Ferry🐌. Let´s see how long it takes for the industry to  incorporate and ruin all this creativity into the mainstream culture. If you want to learn more here i recommend Subculture: The Meaning of Style by Dick Hebdige. 1979. But still worthwhile. Okay. Back to the future.

- - -

Time to start learning some serious transitions. More on transitions in newsletter 3.


See you next week. Ciao and thx!

Marcus 🪑